Mini DVD Replication Label Design Template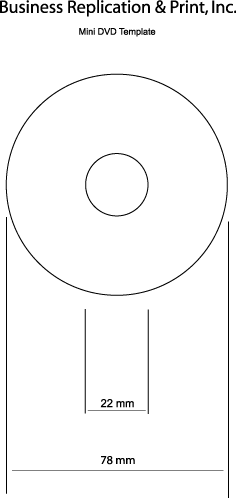 Download this template as an Adobe Illustrator Version 8 file:
mini_dvd(ai).zip
Download this template as an EPS file: mini_dvd(eps).zip
You supply your disc artwork as an electronic file set to one of our standard formats. We support the following applications: PageMaker, Illustrator, PhotoShop, Corel Draw, QuarkXpress, and Freehand on both the Macintosh and Windows platforms.
Tips for creating your artwork to print on the disc.
The surface of the disc is silver not white. Many people use the silver surface in their design. Others will print a solid color for the background and then design their art to print on top of this background color.
For CMYK images we strongly recommend offset printing over a white background. Images with screens, blends, and halftones generally look best when printed using the standard silk screen printing process.
Images with large areas of solid PMS colors look best when silk screen printed.
Contact our customer service representatives if you have any questions (ph: 916 789-9929, e-mail: service@dvdreplication.com ).
All orders are subject to our Standard Terms and Conditions.